What are my options when printing labels?


What are my options when printing custom labels?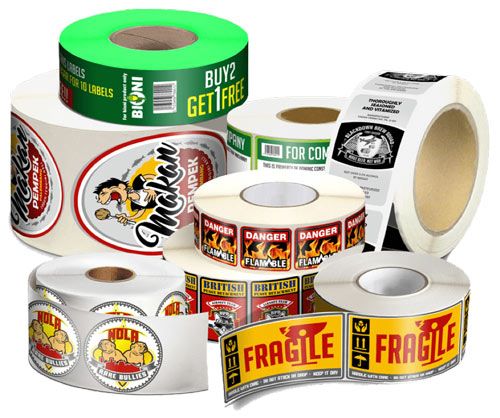 Custom labels are one of the most diverse printed products available. They can be created in virtually any size, shape, or color, and can be constructed using a variety of materials, adhesives, and coatings. Labels are great to use for a multitude of projects such as labeling items in your home, office, or school setting.
There are many different ways you can print custom labels, but in this article, we will discuss just a few of them. The purpose of the label, as well as its application method and desired longevity, will help determine the physical characteristics of the label. Below is an overview of the choices available when creating a custom label.
Base Material
Paper (the most economical choice)
Plastic - Vinyl, Polyester, Mylar, etc.
Metallic Foil
Adhesion Method
Permanent Bond
Removable/Repositionable
Static Cling
Protective Coatings
UV Coating
Plastic Lamination
Chemical/Moisture Resistant
Format
Flat Sheets, multiple labels per sheet
Individual Labels
On Rolls
Fan-folded
Durability
Standard or Heavy-Duty Thickness
Subject to Heat, such as a LaserJet?
Written on by Pen, Marker, Pencil?
Matte or Gloss Finish
Size and Shape
Stock or Custom Size (a Stock size avoids any die expense)
Rectangular or Square, Sharp or Rounded Corners
Oval, Circle or Other Common Shape
Specialty/Die-cut Shape
Ink Colors
Full-Color (CMYK)
PMS/Spot Colors
Black Ink Only
Other Features
Embossing
Consecutive Numbering
As you can see you can customize your labels to fit your exact need from the ink colors to embossing, to size and shape. The possibilities are endless.
If you have a custom-printed label project, get in touch with Formax Printing.
Just give us a call at 866-367-6221. Or, if you already know your specs, click here to access our easy quote request form. As always, we look forward to working with you!
Take care! Rick
Filed under
January 10, 2023
Tags: Laser Cut Labels, Custom Labels for Business, Adhesive Labels, Custom Packaging Labels, Custom Printed Labels, Labels by the Sheet, Labels for Products, Labels on Rolls, Logo Labels, Office Labels, Printed Roll Labels, Printed Roll Labels, Product Labels, Product Labels, Promotional Labels, Promotional Labels, Roll Labels, Self-Adhesive Labels, Self-Stick Labels, Kiss Cut Labels