A Guide to Choosing the Right Paper Stock for Your Projects
Unlocking the Power of Print: A Guide to Choosing the Right Paper Stock for Your Projects
In the dynamic world of printing, the choice of paper stock plays a crucial role in determining the success of any project. As an expert in the printing industry, I am excited to share insights into the diverse range of paper stocks and their optimal applications.
The Basics: Understanding Paper Stocks
When delving into the world of printing, it's crucial to comprehend the fundamentals of paper stocks. The weight, finish, and composition of the paper contribute significantly to the overall aesthetics and durability of the final product.
Glossy VS Matte
Matte vs. Glossy: The Aesthetic Dilemma
Matte Paper: Matte paper, with its non-reflective surface, is an excellent choice for projects where readability is paramount. Ideal for brochures, text-heavy documents, and business cards, matte paper exudes a sophisticated, muted elegance.
Glossy Paper: For projects that demand vibrant colors and sharp images, glossy paper is the go-to option. Magazine covers, promotional posters, and photography prints benefit from the glossy finish, which enhances color saturation and contrast.
Weight Matters: Navigating Paper Thickness

Lightweight Paper (74Lb and below): Perfect for everyday printing needs such as flyers and standard documents, lightweight paper strikes a balance between cost-effectiveness and versatility.
Mediumweight Paper (80Lb-60Lb): Intermediate weight papers are ideal for projects like brochures and presentations, providing a sturdier feel without compromising flexibility.
Heavyweight Paper (100Lb and above): When durability is paramount, heavyweights are the answer. Business cards, postcards, and high-quality prints often benefit from the substantial feel of heavier stocks.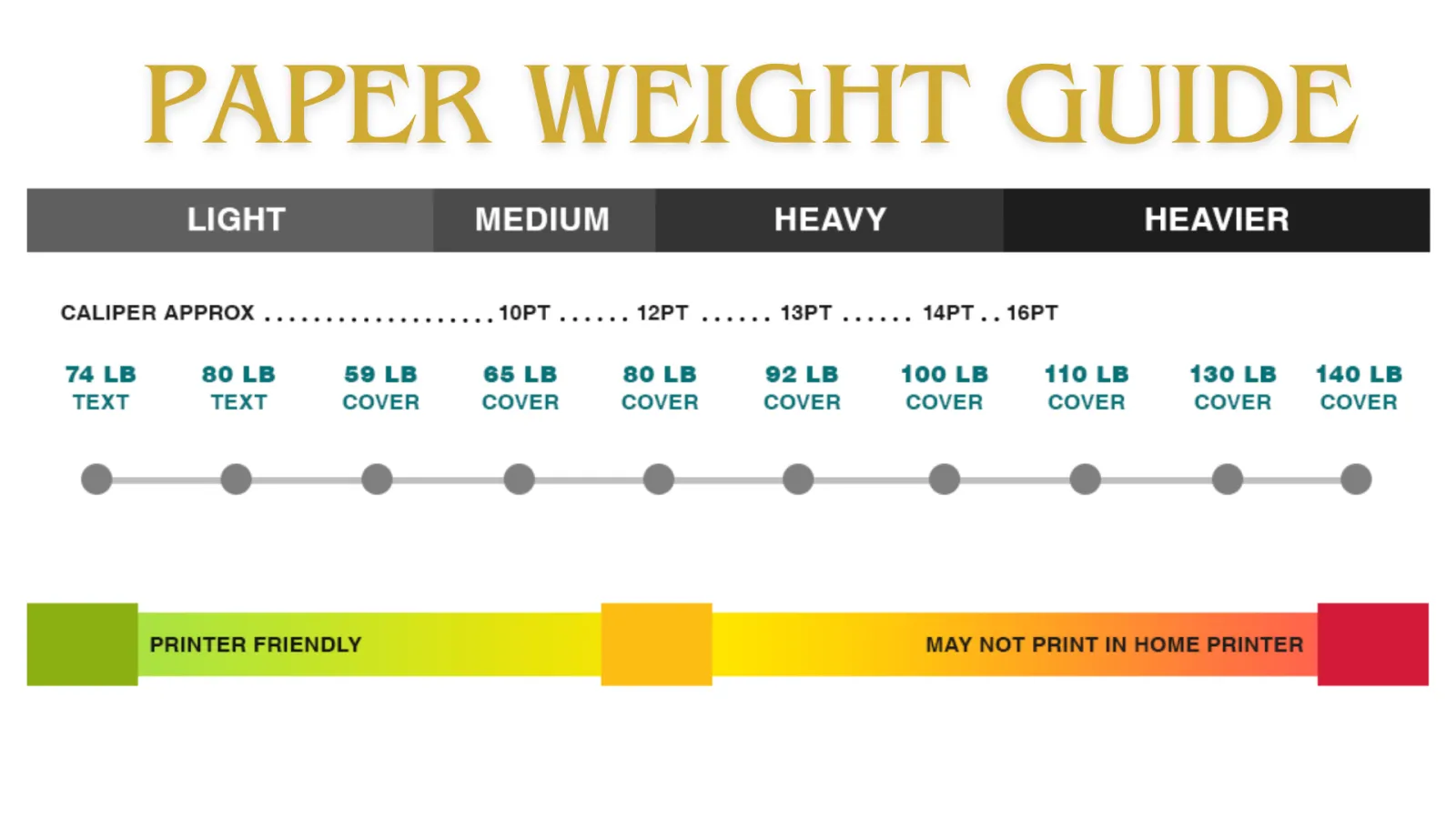 Coated Vs. Uncoated Paper
Uncoated paper is a type of paper that lacks a coating, leaving it with a natural and porous surface. This type of paper is often chosen for its elegant and sophisticated appearance, making it popular for high-end print projects. The texture of uncoated paper allows for a more traditional look and feel, and is easier to write on compared to coated paper. Its absorbent nature results in a softer, warmer appearance of colors when printed. Uncoated paper is ideal for projects such as letterheads, envelopes, and printed books where a classic, timeless look is desired.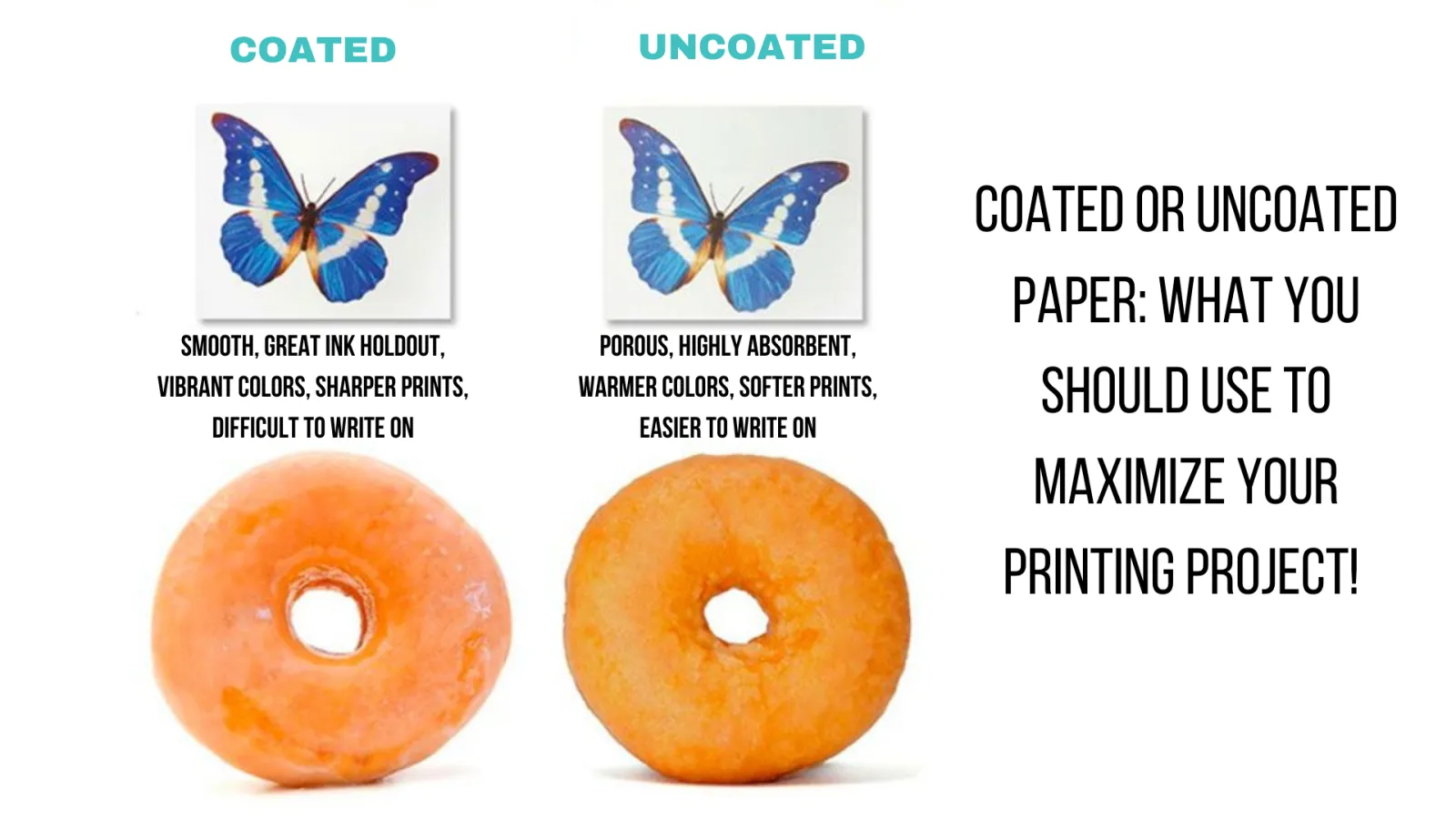 Uncoated Paper
Uncoated paper is a natural and easy to write on paper stock option. It provides an elegant appearance as well as has better ink absorption which results in a softer look that is easy to write on. This type of paper stock is best for letterheads, envelopes, book printing, notepads and other writing or drawing purposes.
Coated Paper
Coated paper provides a smoother finish with vibrant color reproduction. It has less ink absorption which reduces drying time and provides a more durable finish. Coated paper is best for projects like magazines, brochures, catalogs, photographs, and marketing materials where a sleek or glossy appearance is desirable.
Both coated and uncoated paper serve different purposes and the choice hem depends on the project requirements and the desired aesthetic.
The Art of Paper Selection
In the vast landscape of paper stocks, each variant tells a unique story. By understanding the differences in matte, glossy, lightweight, heavyweight, coated and uncoated, and specialized stocks, you can transform your printing projects into a visual and versatile masterpiece.
In the end, the key lies in aligning the characteristics of the chosen paper stock with the objectives and aesthetics of your project. Through informed decision-making, you can unlock the true potential of print and leave a lasting impression on your audience.
Do you have an upcoming print project and want to talk paper specifics? Give Formax a call at 866-367-6221. Or, if you already know your specs, submit our easy quote request form.
Take care! Rick
Filed under
October 04, 2023