How to print a church bible study?

What are the benefits of printing a church bible study?
In Christian communities, Bible study is the study of the Bible by people as a personal religious or spiritual practice. In many Christian traditions, Bible study, coupled with Christian prayer, is known as doing devotions or devotional acts. Many Christian churches schedule time to engage in Bible study collectively.

There are several benefits of printing a custom church bible study. One is that your church can decide the content that goes into the bible study. It can be custom made and designed with your churches brand in mind. You may want to include your church logo on the cover or every page. You can also customize the content to fit your churches ideology and beliefs.
Here are 5 benefits to printing your custom church bible study.
1. You decide the content.
Depending on your churches beliefs you may design the content of your bible study to align with those beliefs. Some churches may want to include outlines and others may want to go more in depth with the content. Whatever your desire is for your church bible study, you can customize your book to meet those needs.
2. You get to choose the paper type.



Printing paper can be pre-coated and have a gloss, matte or dull finish. Printing on glossy paper will make colors more vivid, whereas printing on matte or dull paper will make the colors more subdued. Matte paper would be best used if you plan to write in your church bible study whereas glossy would not.

3. You get to choose the size.
The most common book size is 6" x 9" however we can print your book to any size you like. Textbooks are generally best at the common size, or 7" x 10" or 8.5" x 11". Depending on the content you have as well as how much content will be in your book will help you decide which size would be best.
4. You get to decide what the cover will look like.
This is the fun part! You get to design the cover of your church bible study. The possibilities are endless you can use various online sources to help design your cover, use a photograph, or even and hand drawn picture. You can even add your church logo to the cover to ensure everyone who utilizes your bible study knows right where it came from. Whatever you decided your book will look great with a custom cover.
5. You get to decide the binding type used.
There are many ways you can choose to bind your book. We offer saddle-stitch binding, perfect binding, pur binding, 3 ring binding, coil binding, hard cover binding, as well as turned edge binding. Saddle stitch binding is one of the most popular bookbinding methods we offer. We use this method for a variety of book types including catalogs, manuals, booklets, programs, multi-page brochures, price and part lists, newsletters, comic books, coloring books, magazines and periodicals, wall calendars, mailers, etc. Perfect Binding is a widely used soft cover bookbinding method. With this method, the pages and cover are glued together at the spine with a strong yet flexible thermal glue. The other three sides of the book are then trimmed as needed to give them clean "perfect" edges. Spiral Binding and Coil Binding are interchangeable terms for the same book binding method. This popular method joins the pages and cover of a book using a durable plastic coil. The coil is inserted and twisted through small holes punched along the spinal edge of the book's cover and pages. Hardcover Books, also known as hardback, hardbound, or casebound books, have a thick protective cover that is constructed from dense paperboard. A Ringed Binder, such as the popular 3-Ring Binder, is a very common method for joining separate pages into book form. Binders can be completely custom-made, or custom-printed front and spine sections can be slipped into standard clearview-style binders. Turned-Edge Binders offer function plus an extremely prestigious look and feel. Hence, turned-edge binders are the preferred option to promote an organization's professional image.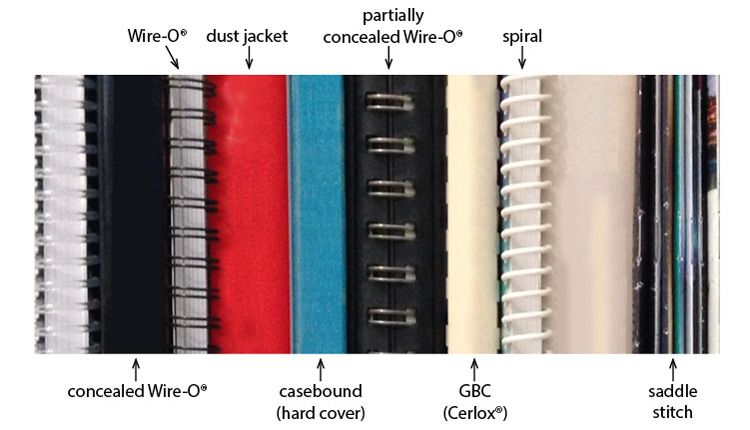 Formax specializes in book printing. We offer digital and offset printing, with a variety of finishing and bindery options. Whether you need perfect bound books, saddle-stitched books, spiral bound books or wire-o bound books, give us a call at 866-367-6221 to discuss your upcoming project. We'll be happy to explain all your options as well as share some money-saving ideas with you. If you already know your specs, submit our easy quote request form.
Take care! Rick
Filed under
February 08, 2023