Choosing the Best Promotional Products for Your Business
Choosing the Right Promotional Products for Your Business

What is Promotional Printing?
As the name suggests Promotional Print is custom created to promote and advertise your business, product or service. This product range is made up of a large and diverse group of printed products, ranging from flyers and leaflets to printed promotional items such as pens, mugs, apparel and so much more. Many people do not know the vast variety of promotional print and item options available to them. We are here to help you choose the right promotional products for your business. In this article we will carefully explain how you can do just that.

Define Your Objectives
Before you can decide which promotional print you want to use you must first define the objectives of your promotional campaign. You should look at your marketing goals and campaign objectives to determine which promotional items you will need. For example, if you are a coffee shop, you will want to focus on materials such as menus, flyers, door hangers, mugs, custom cups, and other accessories. You must also decide if you are looking to increase brand awareness, increase customer loyalty, or make a sale. After you have outlined your marketing objectives and goals, you will be one step closer to beginning your campaign.
Know Your Audience
What Is a Target Audience? Your target audience refers to the specific group of consumers most likely to want your product or service, and therefore, the group of people who should see your marketing campaigns. Target audience may be dictated by age, gender, income, location, interests or a myriad of other factors such as parental status or job type. In order to find your target audience, you can conduct audience research. Audience research is designed to establish the size, composition, and characteristics of a group of individuals who are, or could be, potential customers. It's important to note that this research is about the people and individuals who make up your target audience. For example, if you have a tech-savvy audience you may want to promote your company with a tech item such as a direct mailing with a QR code, or a custom printed USB drive. This will ensure that your promotion is something your target audience will like and appreciate.
Choose the Right Product
With the vast amount of options in the promotional print and promotional product industry, it can often be difficult to choose the right product for your audience. Here are a few tips that can help you decide the perfect product for your target audience.

Choose something visual people are visual creatures and enjoy print and products that are visually pleasing to the eye.

Go for useful-long term products this will ensure your audience sees your brand over and over every time they use the product.

Pick products that reflect your brand if you are a tech company, you don't want to give out something that is old and outdated.

Choose something out of the box so your audience will remember your company over the competition.
For example, a great promotional product for a trade show would be a tote bag or printed notepad with the show's layout and schedule with a place for attendees to take notes. Another example would be water bottles and printed flyers for a 5K event that is outdoors. Choosing the right promotional print or item isn't hard but these tips will make it that much easier.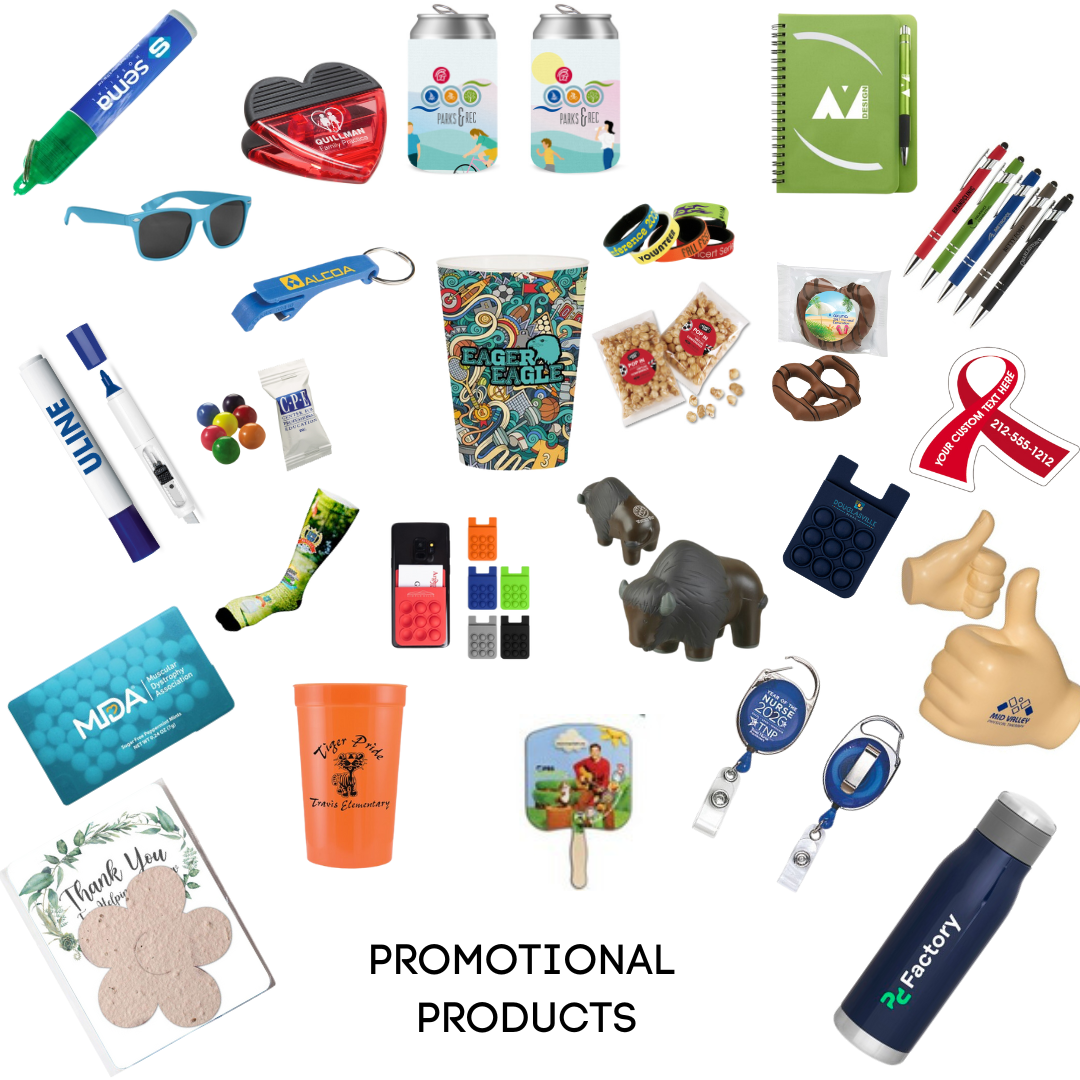 Consider Your Branding
When it comes to promotional products, incorporating your branding is key to creating a lasting impression. One way to do this is by designing your promotional products to align with your brand. For example, using your brand colors or logo on the product itself can help reinforce your brand image. Another way to incorporate branding is by choosing products that are relevant to your industry or message. This can help create a stronger association between your brand and the product. Ultimately, the goal is to create a memorable experience for the recipient, one that reinforces your brand identity and message.


Stick to Your Budget
When getting ready to order your promotional prints or products it is important to let the company you are working with know your budget and what quantity you need as well as any specific colors or designs you wish to use. There are many cost-effective options when it comes to marketing your company whether it is with print or promotional items and the company you choose can help you determine which products will best fit within your budget to effectively meet your marketing goals. One way to ensure you stick to your budget is to order in bulk. This will ensure you always have print and product on hand whenever you need them. Some companies even sell their products as "merch" to show off their business. For example, a zoo might have various products that children enjoy such as bubbles, stuffed animals, water bottles, maps and more and they could purchase them at a low price then upcharge to make a profit.
Overall, choosing the right promotional products for your business is quite easy when you follow the steps outlined in this article. Promotional print and promotional products can be a great way for you to effectively market your customers through a variety of ways. If you'd like to learn more about using promotional print in your marketing, give Formax a call at 866-367-6221. Or, if you already know your specs, submit our easy quote request form.

Take care! Rick