Book Binding Techniques: Choosing the Perfect Binding Style for Your Book


Book Binding Techniques: Choosing the Perfect Binding Style for Your Book

Book binding is crucial in the printing process as it ensures durability, protection, professional presentation, enhanced user experience, branding, customization, and differentiation of printed materials. It is important to choose the right book binding style for your book to enhance the printing process and readability of the readers.
There are several different bookbinding techniques to research and choose from when deciding how you will print and bind your personalized book. The book binding method you choose has a great impact on the overall design of your book and will depend on page count, page weight, paper thickness and more. It's important to begin talking with your printing company even when writing and designing your book to ensure that the binding style you wish to use is available for your book.

Today we will discuss a few of the commonly used bookbinding techniques in the printing industry along with a brief overview of each style.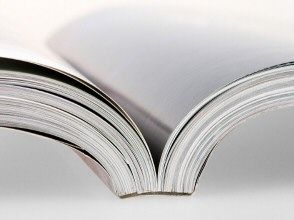 Perfect Binding stands as a popular choice for softcover bookbinding, renowned for its reliable strength and flexibility. In this method, the pages and cover seamlessly unite at the spine using a robust thermal glue, ensuring a secure bond. Through precise trimming, the remaining three edges of the book achieve a flawlessly "perfect" appearance, exhibiting both aesthetic appeal and durability.

Saddle Stitching is perfect for thinner books and booklets with less pages.
Saddle Stitching is one of the most popular bookbinding methods we offer. It is favored by numerous clients for various types of books. From catalogs, manuals, and booklets to programs, brochures, and newsletters, this versatile technique caters to a wide range of publishing needs, including comic books, coloring books, magazines, wall calendars, mailers, and more.
Saddle Stitching involves utilizing wire staples to secure the pages and cover at the spine. The staples penetrate the folded crease of the spine from the outside and are clinched between the centermost pages. While two staples are commonly used, larger books may necessitate additional staples along the spine for added strength and stability. This binding method not only ensures the integrity of the book but also facilitates seamless page-turning. Despite its straightforward nature, the outcome is a professionally finished document that exudes a polished and refined appearance.

Spiral Binding and Coil Binding are interchangeable terms for the same book binding method. This popular method joins the pages and cover of a book using a durable plastic coil. The coil is inserted and twisted through small holes punched along the spinal edge of the book's cover and pages.
One of the primary benefits of a spiral bound book is that the pages can be opened a full 360 degrees (cover to cover). This allows an open book to fold back upon itself and yet still remain flat, so it stays open for easy reference and yet takes up minimal room on a desk or table. There is no tension in the spine like a traditional book so once turned to a page, it stays put without having to use your hands to hold the book open.
Spiral binding is an excellent choice for reports, sales presentations, proposals, directories, cookbooks, instruction manuals and maintenance guides. Atlases and travel guides are also commonly spiral bound because they are easier to manage when traveling.

Hardcover Books, also known as hardback, hardbound, or casebound books, have a thick protective cover that is constructed from dense paperboard. This paperboard is commonly wrapped with a gloss, matte, or soft-touch laminated paper cover for improved appearance and durability. Because the paperboard is rigid and inflexible, it must be created with a flexible hinge area near the spine to allow the book to open and close easily.
There are several ways to assemble a hardcover book. On some book projects, the pages are gathered and sewn together with strong thread before the cover is attached. On other projects, the pages are glued together near the spinal edge before the cover is applied. The production method is largely dependent upon the order quantity and the budget of the project.

Wire-O binding offers many of the same benefits as spiral coil binding, but is more sophisticated in appearance. As such, it produces a very impressive document. Also, it can accommodate pages and inserts of varying thicknesses, including dividers or index tabs made from heavy cardstock. Wire-O spines come in several sizes and colors to accommodate different page counts in books.
The Wire-O binding method utilizes pre-formed pairs of wire loops that run along a C-shaped unit. These wire loops are inserted through holes that have been punched through the book's cover and pages. The loops are then crimped closer together until they form a perfect circle, thus securing the cover and pages as an assembly, yet allowing them to open freely cover-to-cover (360 degrees). Once the book is turned to a d
Choosing the Perfect Binding Style for Your Book
When choosing the perfect binding style for your book you will want to consider your specific requirements and goals. For example, if you want your book to have a professional hardcover book you would need to talk to your printer about the specifics for that type of book. If your target audience is young children, you may want to consider a book build for durability and strength. The cost you are willing to spend will also help you determine the binding style for your project. Choosing the binding style that will best fit your project isn't easy but with Formax here to help we can get your book created from start to finish and ensure you will be happy with the results.
Ready to print your book? If you'd like to learn more about book binding styles for your book printing needs, give Formax a call at 866-367-6221. Or, if you already know your specs, submit our easy quote request form.

Take care! Rick