Avoiding the Rush: Five Recommendations for Meeting your Project's Deadline
Let's face it, rush orders are stressful. Even though everyone tries their best to plan ahead, rush situations will still happen from time to time.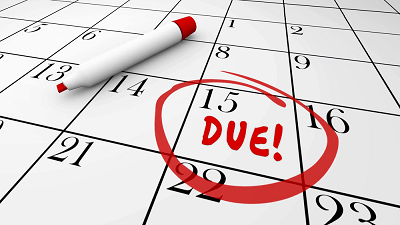 The good news is that most commercial printers will make every effort to hit your target date. That said, it is important to realize that any project done in a rush may increase the likelihood of miscommunication and mistakes.

Furthermore, the added urgency almost always increases the overall cost of the project. Your printer may need to bring in extra staff or pay overtime to meet your urgent deadline. There could also be expedited shipping charges for rushing in materials as well as rushing the final product to you. Needless to say, allowing ample time for a project's completion is always the most cost-effective (and least stressful) option.

Below are some things to keep in mind the next time you have a print project with an important deadline to meet-�

1) See if your printer can reserve press time

Even though your artwork files may not yet be finalized, you should still contact your printer as early as possible. Don't wait until your artwork is complete to get your printer involved. Rather, contact your printer as soon as you know you are facing a deadline. This is particularly true for larger projects and/or projects that involve special features or multiple components.

In most cases, having sufficient notice of an upcoming deadline will allow your printer to schedule press time for your order. It will also allow your printer time to arrange for any necessary materials to be brought in. Even though you are facing a time crunch, providing as much advance notice as possible will help things run smoother once you submit the final details of the order and say "go!"

2) Split the order into two parts

Let's say you want to order 2,000 books, brochures or some other type of printed piece. Normally an order of this size would be produced on a traditional Offset printing press, which offers a lower unit cost than a Digital printing press.

However, unlike a Digital press, an Offset press requires the creation of printing plates. An Offset press also involves an initial set-up procedure to ensure the press will operate efficiently. Obviously, both of these steps add time to the project.

Now let's say 200 pieces would serve your immediate needs and you could wait a little longer for the balance of the order to arrive. Knowing that a Digital press will get the job done faster because it does not require any printing plates or set-up time, you could opt for Digital production of the 200 pieces and have these shipped out right away to meet your most urgent requirement. Then you could still enjoy the unit cost savings on the remaining 1,800 by having them produced on an Offset press.

3) Make sure the artwork is Print-Ready before submitting it

Print-Ready is a term used to describe a file that has all the specifications necessary to produce high-resolution printed output, without requiring any additional alteration or intervention. In other words, a commercial printer can use the file "as submitted" to successfully print the desired output.

Needless to say, files that are not print-ready will delay the start of the project. Files that need extensive correction may even cause you to miss your deadline.

Common factors that prevent an artwork file from being Print-Ready include-�

-� Document sized improperly
-� Colors set to RGB instead of CMYK
-� Not allowing ample margins
-� Resolution not high enough
-� Bleeds and crop marks not set up correctly
-� Missing fonts or images
-� Poor contrast between text and background
-� Spelling and grammar errors

The type of file you submit is also an important factor in determining whether a commercial printer can successfully print your layout. For example, high-resolution Adobe PDF files are universally accepted (and preferred) by commercial printers. Layout files created with other Adobe products - such as InDesign, Illustrator or PhotoShop - also have widespread acceptance.

Conversely, files created with Microsoft programs - such as Word, Publisher or PowerPoint - often require some intervention and conversion to make them print-ready. The same holds true for many other popular software programs, especially "nonprofessional" versions of desktop publishing packages. The file may output to your desktop printer just fine, but these types of software are rarely well-suited for output on a commercial printing press.

4) Request a PDF proof instead of a physical proof

A proof is a preliminary version of a printed piece. It provides a close representation of how the piece will appear when printed. A proof is vitally important because it helps prevent unforeseen problems with text, images, spacing and other design elements. Finding and correcting layout issues before going to press not only saves valuable time, it also helps avoid the aggravation and expense associated with a reprint.

A PDF is referred to as a "soft proof" because it is an electronic file that is created for display on a computer monitor. The file simulates the appearance of the finished printed piece. A PDF proof can be sent by email, which greatly speeds up the proofing and approval process.

Unlike a PDF proof, a physical sample is a "hard proof." There is almost always a significant charge for a hard proof because it is basically a press run of only one or two copies. In addition to being printed, a hard proof must also be shipped. Because the printing and shipping of a hard proof add time to the project, PDF proofs are often the preferred proofing method-�especially when trying to meet a deadline.

5) Factor in enough time for delivery

In most cases, ground shipping by courier or truck is the most economical shipping method for print materials. But ground shipping also takes the longest, so it might not be a suitable option for a last-minute delivery.

In many cases, expedited shipping services - such as Next Day or 2-Day delivery - are required to get a rush order delivered in time. However, because printed matter can be rather dense and heavy, expedited shipping can become quite expensive. Depending on the circumstances, you might consider expediting just a portion of the order to hold you over until the remainder of the order can arrive by ground.

Of course, transit times will vary according to the distance and chosen shipping mode. Also, severe weather, mechanical problems, and road shut-downs can cause unanticipated delays. So as soon as you realize your project has a strict deadline, start discussing the various shipping options with your printer to see which provides the best solution for your time-critical delivery.

If you have a high-priority print project, get in touch with Formax Printing and we will do everything possible to meet your target date. Call us at 866-367-6221 or click here to access our quote request form. As always, we look forward to assisting with your print project!

Take care! Rick
Filed under
October 28, 2020